Rescuers in Bangladesh have called off efforts to find people still missing or trapped after floods and landslides swept parts of the south-east.
The number of people killed has risen to 110, with more bodies found overnight, but officials say there are no new reports of people missing.
Rain has stopped but many parts of Chittagong city remain deluged. Flights to and from the city have resumed.
Thousands of people remain displaced, with many marooned on higher ground.
Relief workers are distributing rice and water to them.
The BBC's Anbarasan Ethirajan says that with flood water receding in Chittagong and other parts of the south-east – including the Cox's Bazar and Bandarban areas – there have been renewed calls to stop indiscriminate logging in the hill areas to prevent future landslides.
Officials are keeping a watch on the Karnaphuli river in the city of Chittagong which is swollen with flood water.
On Wednesday officials said that Bangladesh had experienced its worst monsoon rainfall in years in the region around Chittagong, the second largest city in Bangladesh.
The rain caused mud banks to collapse, burying tin-roofed houses and blocking roads.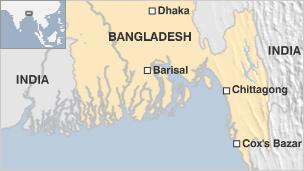 Those killed were drowned in flash floods, hit by landslides, struck by lightning or buried by wall collapses, reports say.
Many homeless people live at the foot of the hills or close to them despite warnings from the authorities about the danger of landslides.
Chittagong port received 40cm (15.75in) of rain in a single 12-hour period on Tuesday, one of heaviest days of rainfall over the last five years.
Volunteers using loudspeakers warned people about the danger of heavy rainfall and landslides in Cox's Bazar, officials say, but local people and rescuers were still left helpless when floodwater suddenly inundated dozens of villages and severely disrupted communications.
Security forces were deployed to help the search and rescue effort.
Chittagong has been hit repeatedly by monsoon rain and landslides in recent years. As a result, the government has tried to tighten rules on where development can take place, but with little success.